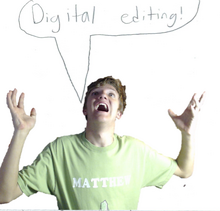 The Artist is the creator of Mr. Happy and Post Cancellation. He first made Mr. Happy in the fourth grade, but is now in high school, still creating the same fricken' thing.
The Artist has interacted with the comic multiple times, most notably in Post Cancellation, where his appearance is a major plot point. He enjoys being a god to the characters and revels in it. He is usually represented by photographs via Digital Editing.
Ad blocker interference detected!
Wikia is a free-to-use site that makes money from advertising. We have a modified experience for viewers using ad blockers

Wikia is not accessible if you've made further modifications. Remove the custom ad blocker rule(s) and the page will load as expected.