Welcome to the Mr. Happy Webcomic Archives section! There are the comics that I bother to post that I made in fourth grade! That mans they aren't very funny. In fact, they suck. But they somehow transformed into what we have today. Which still sucks.  There's also newer archives.  In addition, there are site archives here.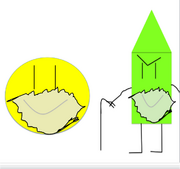 ARCHIVE COMICS
OTHER COMICS
SITE ARCHIVES
BROWSE
Ad blocker interference detected!
Wikia is a free-to-use site that makes money from advertising. We have a modified experience for viewers using ad blockers

Wikia is not accessible if you've made further modifications. Remove the custom ad blocker rule(s) and the page will load as expected.