General Description
Edit
Classic Crayon is the original form style of Mr. Crayon. He has two squiggles, on his head and lower torso, and dot eyes. Classic Crayon has a can-do personality and is one of the more kind-hearted crayons. He is similar in style to Garrett Crayon. Although the original, he doesn't hate Mr. Happy until he gets on his last nerve.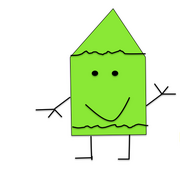 Ad blocker interference detected!
Wikia is a free-to-use site that makes money from advertising. We have a modified experience for viewers using ad blockers

Wikia is not accessible if you've made further modifications. Remove the custom ad blocker rule(s) and the page will load as expected.