General Description
Edit
Black Box is a thief who was sent by the king to retrieve the Plate of Platonia. He has fought a dragon, the royal yeti, It, and many other foes. He appears as a stick figure with a masked face revealing only eyes.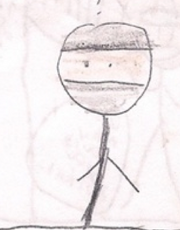 Creator: Matthew (MrHappy21)
Player: MisterBlackBox
Eyes: Dots
Jumping Distance: 1/2 inch
Real Life Origin
Edit
After working on a golf course project for school, we had spare time. We decided to start a story, with Matthew as the Narrator. MisterBlackBox chose thief, and chose the name Black Box. Joe the Wizard created in the same way.
Black Box's main power is the ability to control dirt, with the power of his earth dagger. Black Box can also ignore everything around him, as well as pay attention to everything (which results is an explosion.) Black Box's strangest abiltiy is spitting inedible space nachos.