General Description
Edit
Alex Crayon is the way my good friend Alex draws
Mr. Crayon
. He has dot eyes and a line on his forehead. His personality is most like Mr. Crayon's, but he is a little more timid.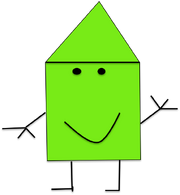 First Appearance: Mr. Happy Visits Atlantis
Creator: Alex (No Wiki account)
Color: Green
Eyes: Dots
Alex Crayon started as the way Alex drew Mr. Crayon, but he eventually evolved into his own character. Knowing he was just a copy, Alex Crayon had a tough childhood. He lived miserably, feeling that he had been a mistake. In the end, it was actually Mr. Crayon that had comforted him. He told Alex Crayon that the line was a nice touch, and that was all Alex Crayon needed to be reassured. (At the time, Alex Crayon didn't know what sarcasm was)
Achievement
Edit
You can earn the Alex Crayon Achievement by making twenty-five edits on Crayon Clan articles. It is a silver achievement, so you get fifty points for earning it. The emblem was made in Microsoft Paint, so it looks a little weird

Random Other Facts
Edit
Currently Not in any comics on site.